Materiality analysis
Materiality analysis
Every three years we conduct a materiality analysis, identifying the topics that are most relevant to our stakeholders. We performed a materiality analysis in 2016 and updated this with international desk research in 2018.
In 2020 we conducted a new analysis, determining the material topics which reflect Q-Park's economic, environmental and social impacts as well as those that influence decisions taken by our stakeholders. For details regarding the 2020 analysis, see our CSR 2020 report.
Results
The five most important topics are at the top of the Q-Park Materiality Matrix, above the red line. Customer Satisfaction / Sustainable Mobility / Digitisation / Economic Performance / Electrification (EV charging points and PHEVs + EVs in our fleet) respectively.
The top ten material topics are above the green line, adding cybersecurity, employee development, energy consumption, urban liveability and strategic partnerships to our overarching material themes.
Figure 14

Q-Park

Materiality Matrix
---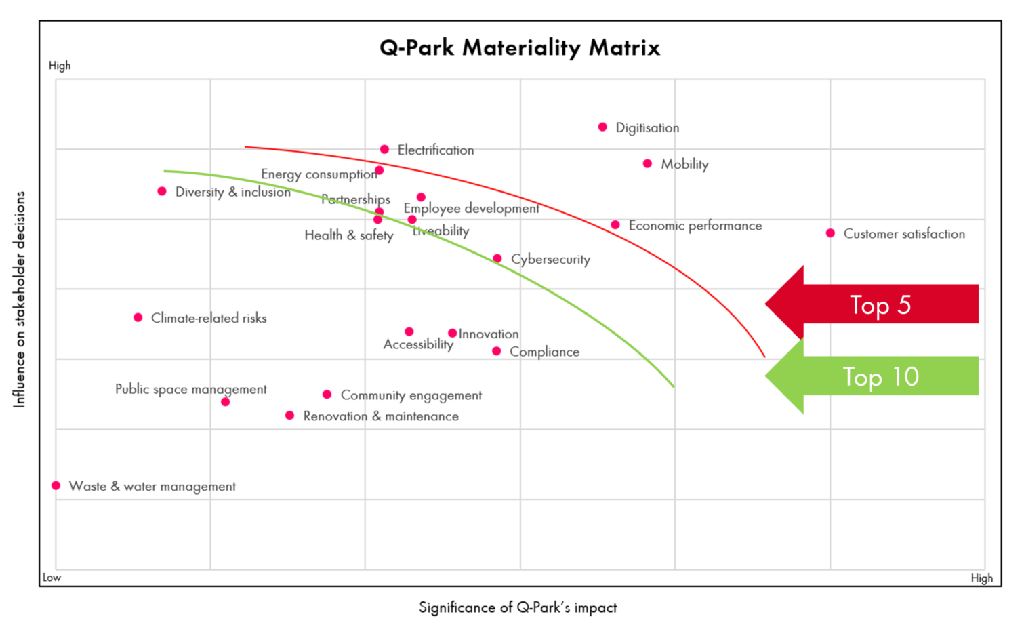 Result highlights
By placing an emphasis on materiality, we provide disclosures and indicators which reflect our economic, environmental and social impacts, based on this materiality analysis.